On your trip to Japan, you might want to enjoy shopping as well.
Shima Onsen is a great place to enjoy shopping in the countryside, where you won't find it in big cities like Tokyo, Osaka or Kyoto.
In addition to unique Japanese sweets, confectionary, and local sake, we have featured products that will help you enjoy the afterglow of your trip to Japan.
Customer "What do you recommend for shopping in Shima Onsen?"
A local "There's nothing here !"
Customer "Really ?"
Just kidding!
We invite you to find out what your favorite item is.
Confectionery and Sweets
Onsen Manju (steamed bun)
"Onsen Manju" is the most famous snack for a trip to Onsen.
Onsen Manju is a confection made by steaming a sweet red bean paste in thin wheat dough, and most of the dough is brown with brown sugar.
This brown color is said to be due to the color of Onsen water in the Ikaho Onsen in Gunma Prefecture, which is said to be the birthplace of Onsen Manju.
Two shops in Shima Onsen, "Fugetsudo" and "Takadaya," manufacture and sell Onsen Manju. The taste of the bean jam is different, so it might be fun to buy one at a time to taste and see which one you like best.
Original Japanese Sweets
"Fumigetsudo" and "Takadaya" each make their own original Wagashi (Japanese sweets).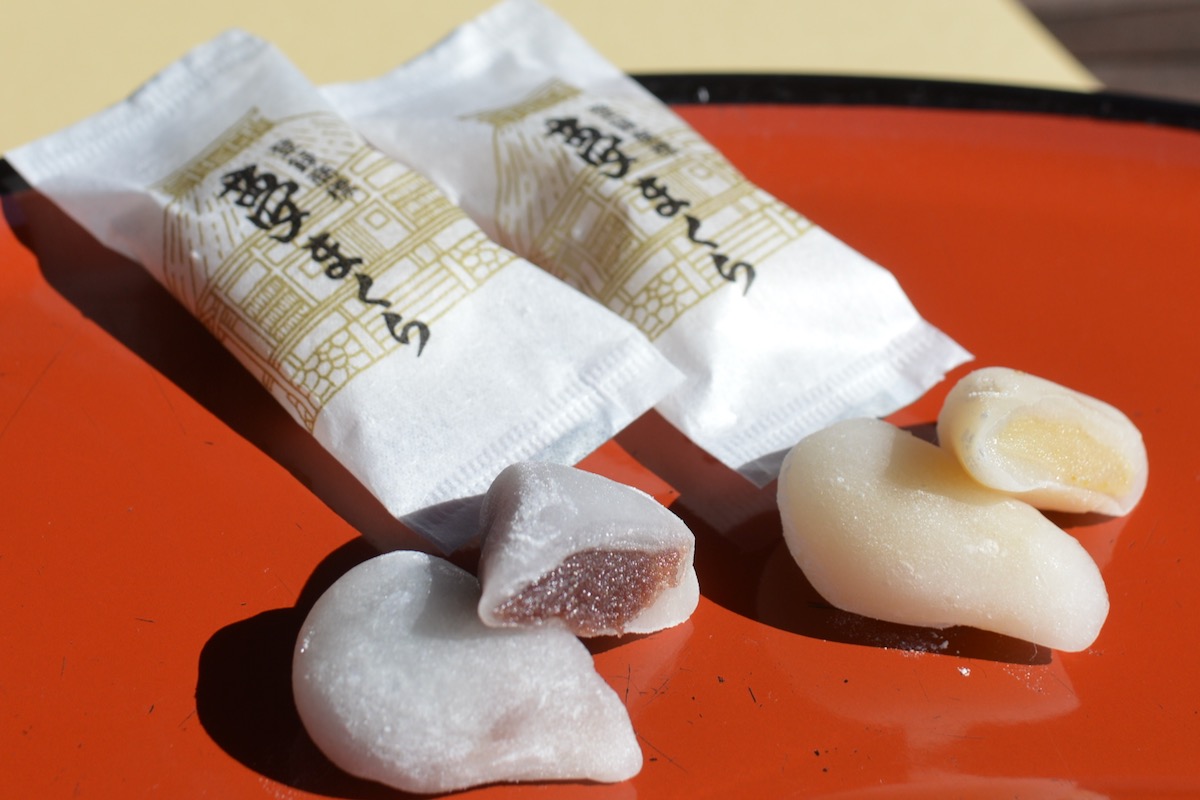 "Fugetsudo"'s confectionery is "Yume Makura (dream pillow)" based on the legend of the opening of Shima Onsen, and "Takadaya"'s is "Oiran Furou Wet Sweet Natto" made of sweetened beans (safflower beans), a specialty of this area, cooked slowly and made into sweetened Natto (fermented soybeans).
We recommend both of these products because they have a taste that can only be made at the store.
Other Sweets and Foods
There are also a variety of sweets and foods other than Japanese sweets.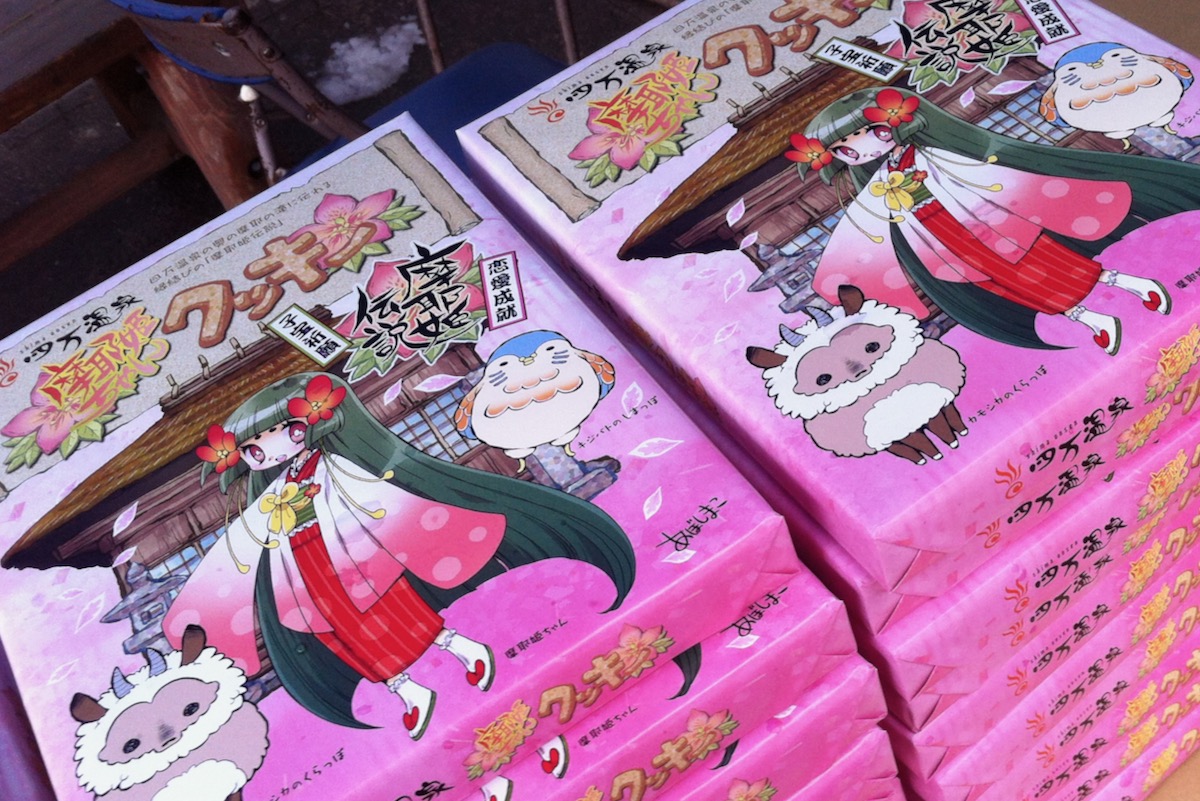 MayaHime Chan Cookies are cookies with a motif of the legend of Princess Maya, the matchmaking heroine of Shima Onsen's Maya Falls, and have a cute MayaHime character created by Ms. Aboshi Mako printed on them. The price is reasonable at 500 yen.
In the shops in the Onsen town, you can find original Japanese style pickles and various sweets such as potato chips with Shimonita green onions.
Unfortunately, most of the product names are only available in Japanese, so you may not know what they taste like, but you should definitely give them a try!
Kashiwaya Cafe, located in the middle of the Onsen resort area, sells home-roasted coffee under the brand name "NAKAYOSHI COFFEE."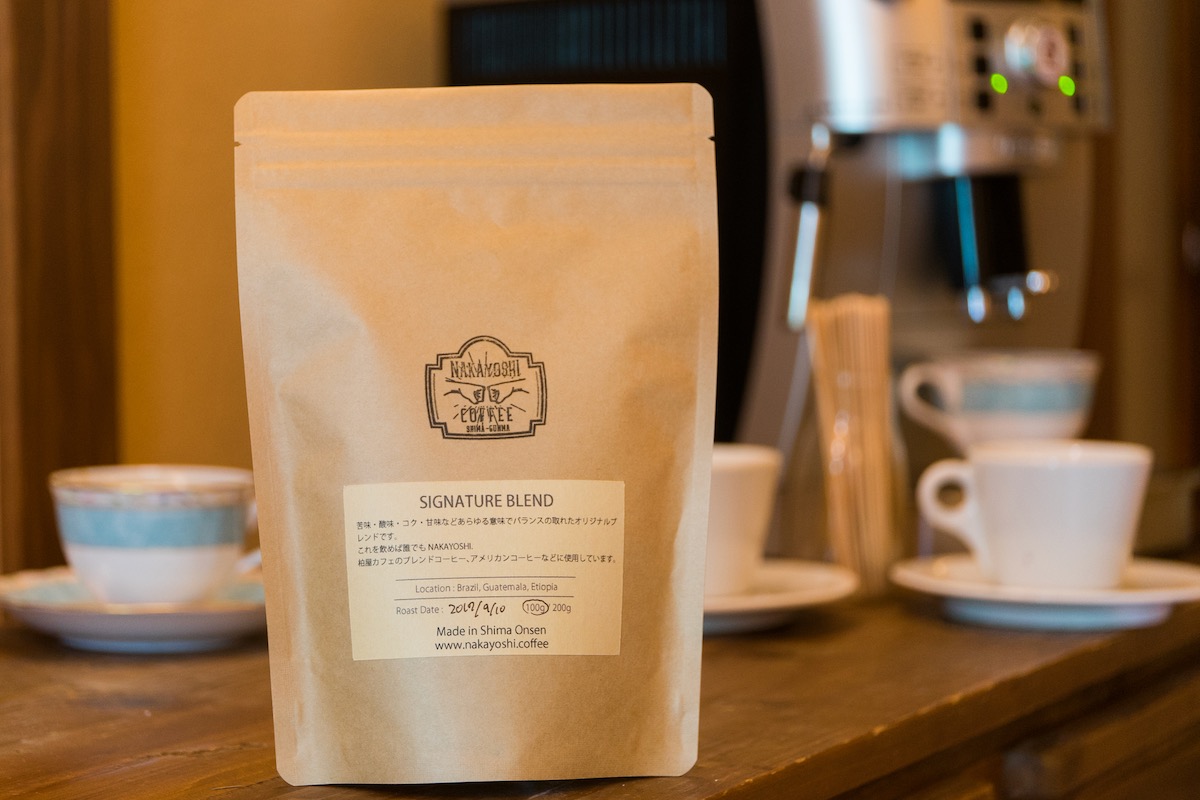 There are three types of coffee available: the "Signature Blend," which has a crisp, low-flavored taste; the "Espresso Blend," which is easy to combine with espresso machines and milk-based drinks; and the "Shima Blue," which is inspired by the refreshing Shima Blue and is recommended for dripping.
Local Sake
For those who love to drink, how about buying some of the local sake from Shima Onsen or Gunma?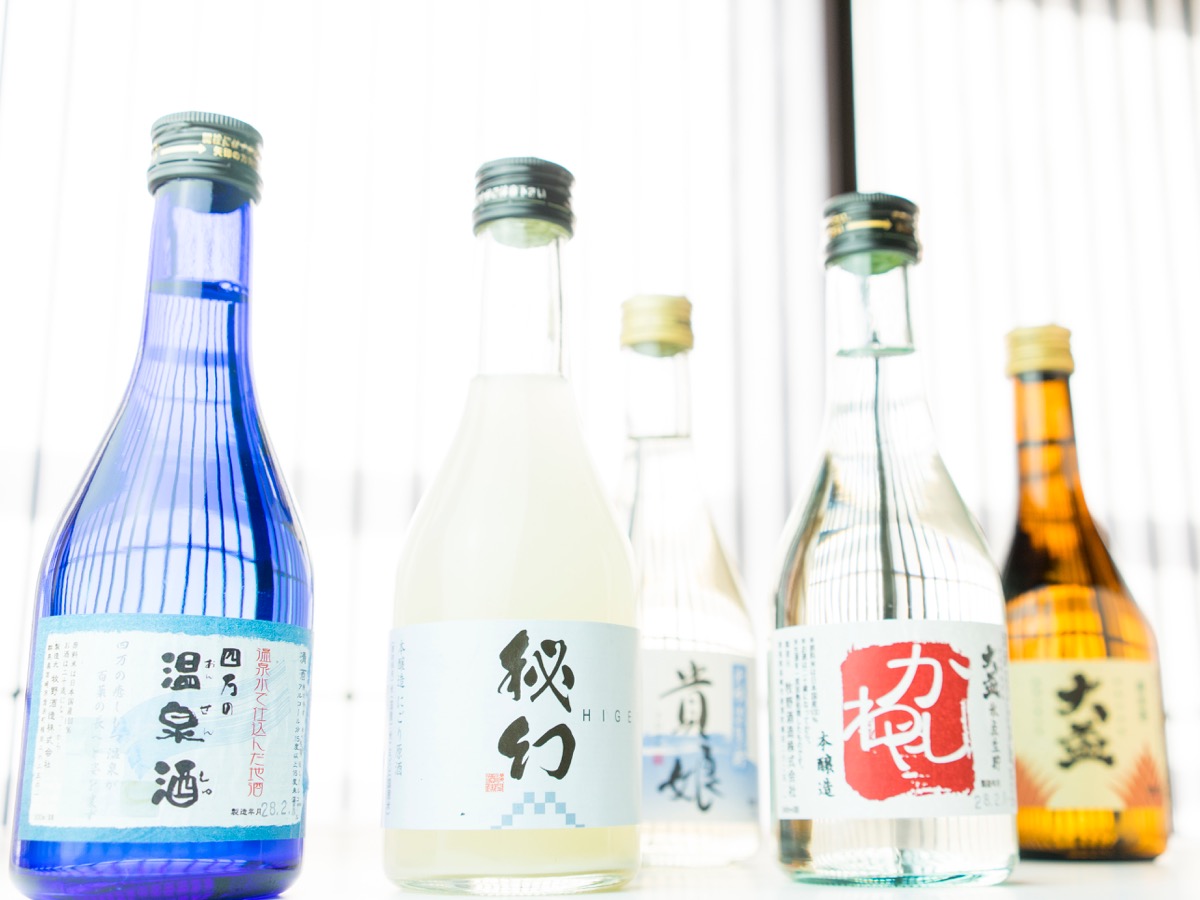 "Washi-no-ya" located in the Yamaguchi area of Shima Onsen brews a craft beer called "Shima Onsen Ale" in the Hinatami area of Shima Onsen.
In addition to the three standard beers, MayaHime (Pale Ale), Ouketsu (Amber Ale), and Tsukimibashi (Porter), there is also a blue "Shima Blue Ale," inspired by the "Shima Blue" color of the Shima Onsen water.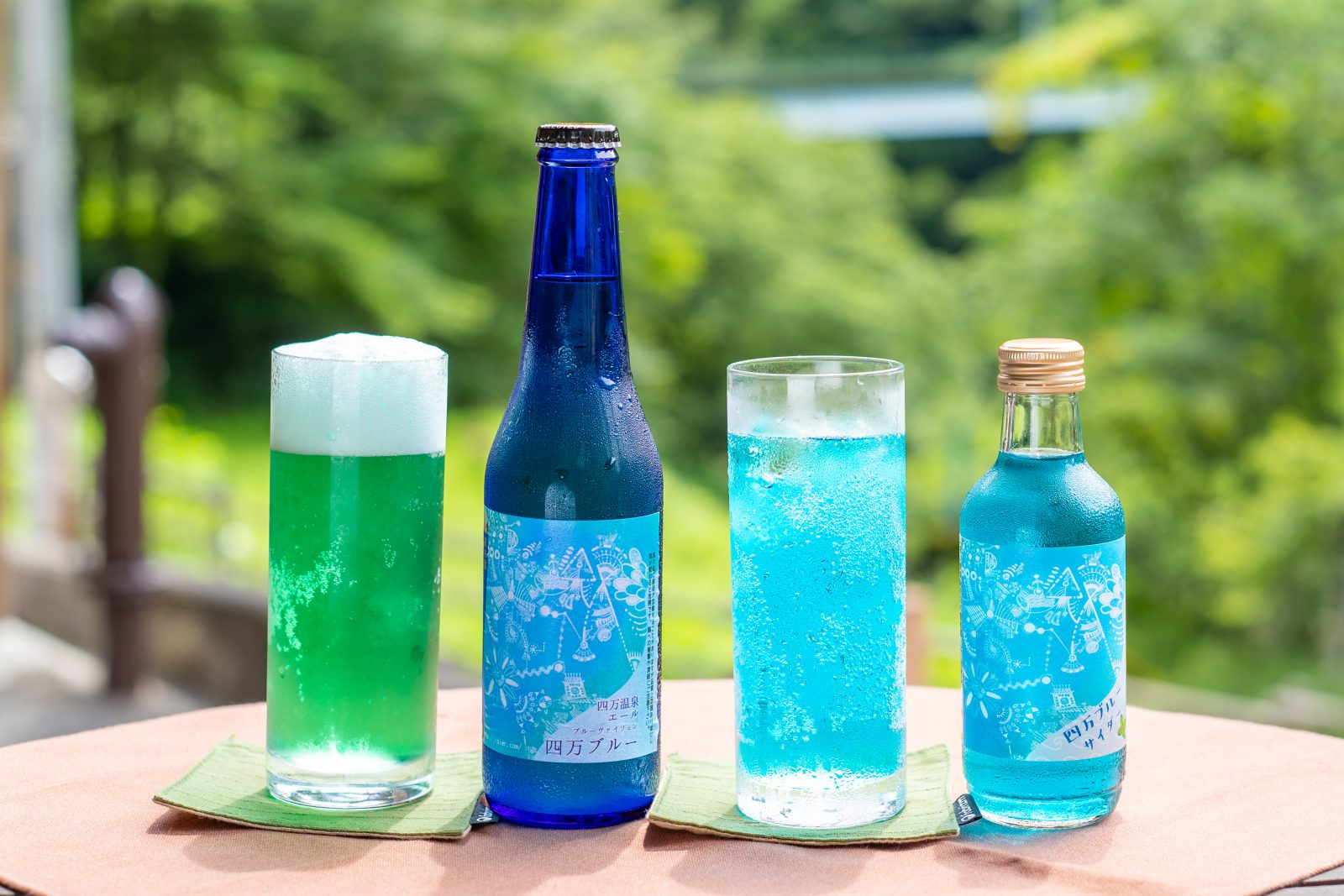 Gunma Prefecture is located at the headwaters of a river that flows into Tokyo and other cities.
As a result, there are many sources of clean water, including the Tone River system and the subterranean water at the foot of Mt. Haruna.
"Kimusume," the only Sake brewery in Nakanojo Town, located in the Shima Onsen area, "Makino Shuzo," located at the foot of Mt. Haruna, and "Nagai Shuzo," located at the source of the Tone River, can be purchased at "Warinoya" in the Yamaguchi area and "Nakamura-ya" in Kirinokidaira.
Makino Shuzo Brewery also produces Sake called "Shima-no-Onsenshu", which is brewed in the hot springs of Shima.
Agricultural Products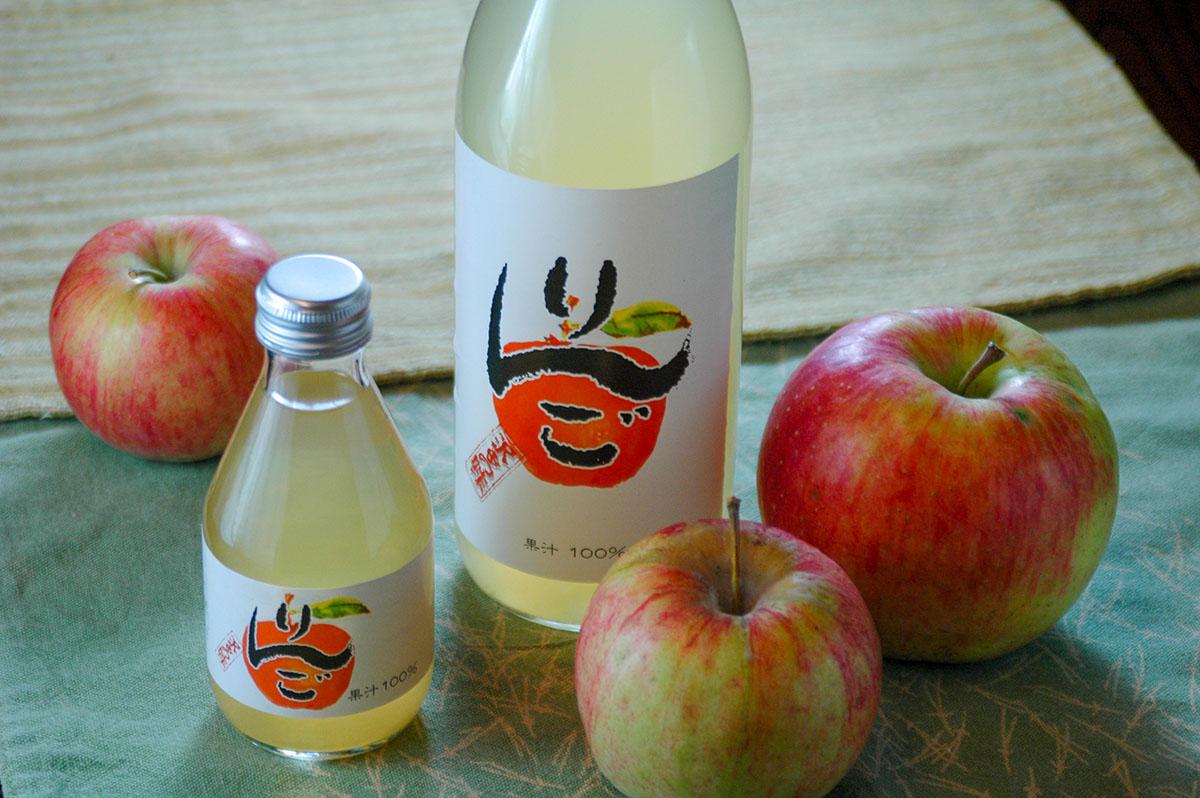 There is no farmland in Shima Onsen due to the Onsen resort and unspoiled nature, but the Sawada area in Nakanojo Town at the foot of Shima Onsen and the neighboring Rokugo area have a thriving agricultural industry and produce a wide variety of agricultural products.
The "Sawada-No-Aji" series of products made and sold by the local agricultural cooperative is a popular choice.
In addition to seasonal vegetables, processed agricultural products such as apple juice, blueberry jam and pickles are available at a nearby factory. These are available at a small shop at "Ouketsu," one of the famous spots in Shima Onsen, or at the agricultural cooperative's produce stand at the first traffic light, a little more than 10 km back from Shima Onsen on Route 353 in the direction of Nakanojo.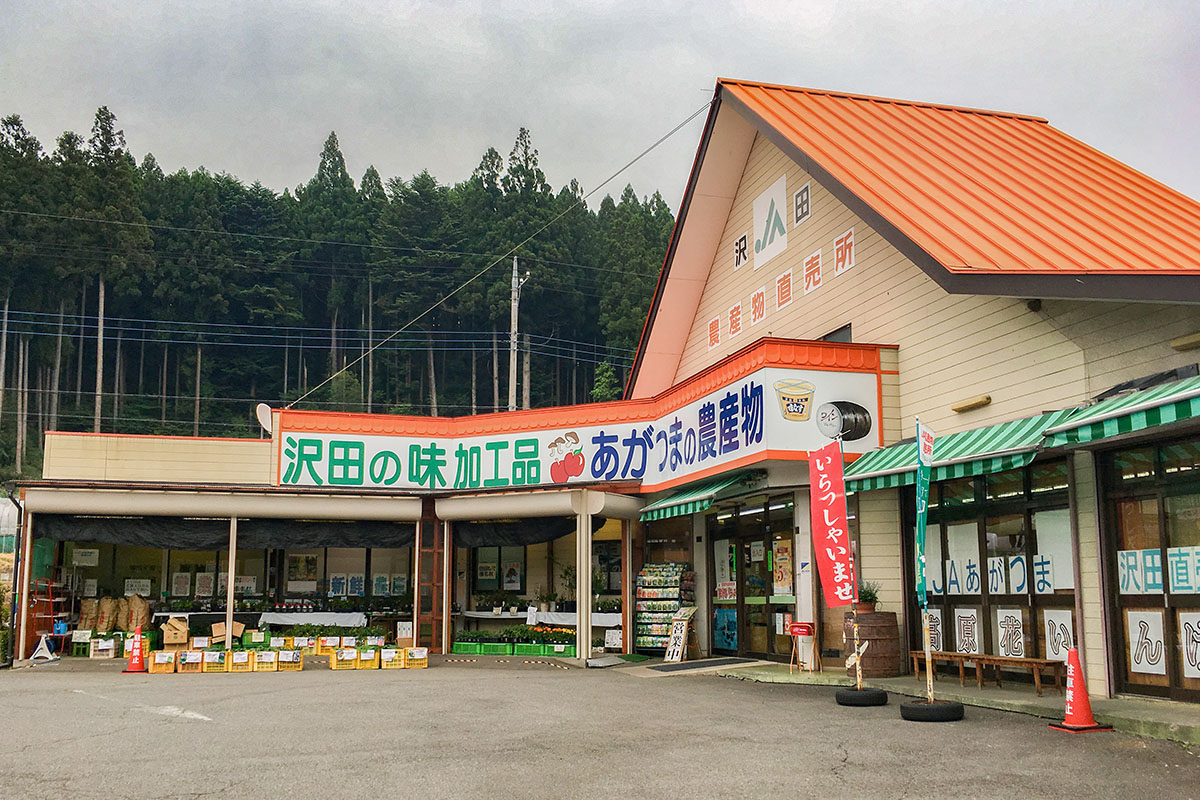 The Sawada area is also known as a major apple-growing region, and from September to December you can find many apple shops along Route 353.
Of course, you can also enjoy apple picking.
Onsen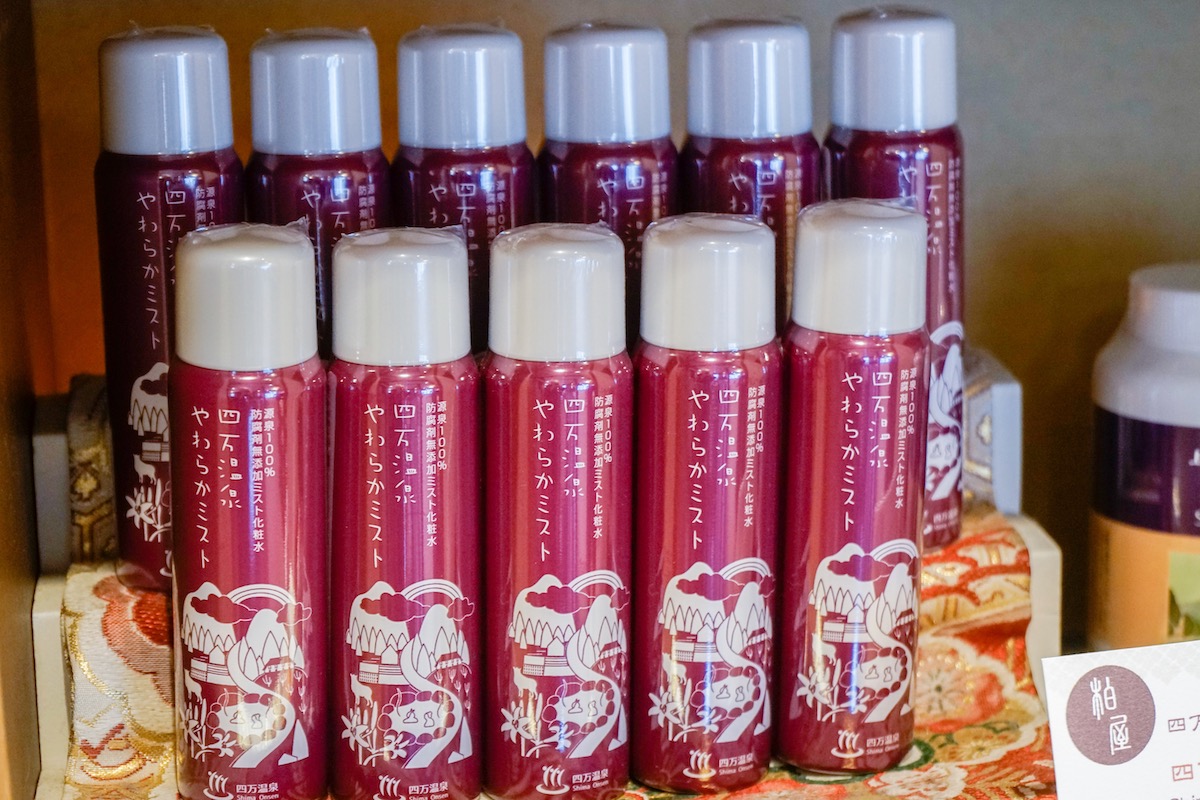 Since Shima Onsen contains ingredients that are said to be good for your skin, there are a variety of products that use Onsen water.
Shima Onsen Soap is a soap that contains collagen in addition to Onsen water of Shima.It is available in two types, normal with a clear color and charcoal infused. Kashiwaya Ryokan and Kashiwaya Cafe sell the soaps in original wrapping.
"Shima Onsen Mist," which uses 100% hot water from Shima Onsen, that is good for your skin, is also very popular.
The one thing I always want to carry in your pocket is "Onsen Wet Wipe," which has Sawatari Onsen and Kuni Onsen versions, in addition to Shima Onsen version.
Bath salts are a standard feature of Onsen.
There is no substitute for the real Shima Onsen, but they are perfect for enjoying the feeling of Shima Onsen after you return home.It is available in a bargain-priced bottle or in a bag that can be divided into smaller portions.
How did you like so far?
You can enjoy shopping in Shima Onsen!
Please find what you like and enjoy the afterglow of Shima Onsen.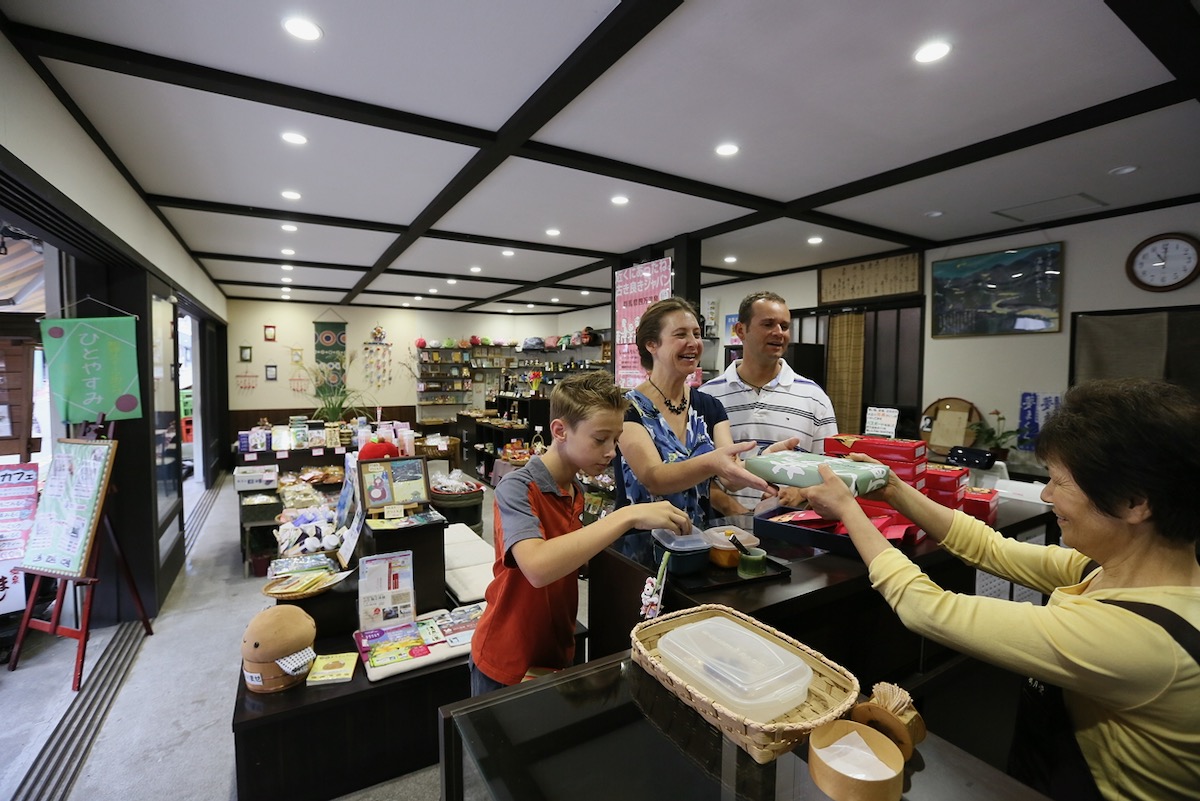 If you have a request for something in Shima Onsen, please let us know. We will try to commercialize it.